Project (English Version)
By paeterna

While there is no english version of the complete website yet, the project overview is already available in english.
Synopsis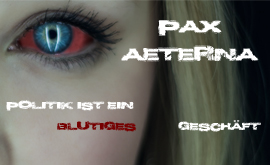 "Pax Aeterna" tells the story of a secret vampire society. In the course of centuries, it separated into three different parties, which maintain a delicate peace. Eventually, in current Cologne, masked assassins attack the parties and provoke violence and distrust among them. They try to stop the assassins, but their own prejudices against each other and their lust for power turn out to be great obstacles on the way to the truth.
We meet the night with young Anna. Her rebirth as a vampire raises questions and bears a secret, which may be related to the mysterious assassins.
"Pax Aeterna" is produced as a ten episodes web series (each part about 15 minutes length). It'll be published on 11.11.2011 on our website and various video platforms.
Production
"Pax Aeterna" is a private project of the actor and director Lars Walther (Cologne, Germany). It started on November 2010 with an initial idea and a first episode. Walther put together a great ensemble of cast and crew who agreed to work on the project for free, so without a delay the shooting started in February 2011.
As Pax Aeterna is a private project, it is not funded by a major production company. All participants work for free, and the series will be published for free, too. However, as even a low budget production needs a budget, you are free to support us via mysherpas.com or contact us directly.